12U USA Softball All-American Games Region 2 Ohio/WV
TRYOUTS AND CLINICS
Athletes must be residents of Ohio or WV or be on an OH or WV USA sanctioned team
All-American Games are August 14th to 16th in OKC at Hall of Fame Stadium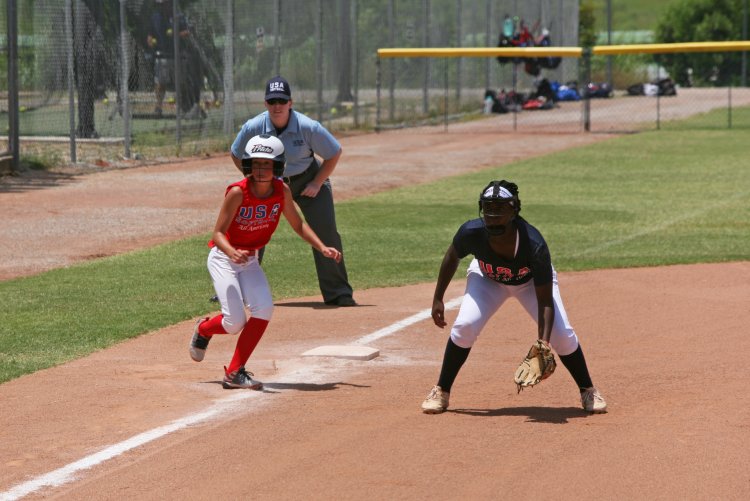 2020 TRYOUT INFORMATION FOR REGION 2 OHIO/WEST VIRGINIA 12U ATHLETES
Tryout is for 12U athletes interested in participating USA ALL-AMERICAN GAMES that will take place August 14th – 16th 2020 in Oklahoma City at the Hall of Fame Stadium.
Athletes must be available to leave August 12th and not get back until August 17th.
Try out is recommended for 11 – 12 year olds who have played at a high travel ball level and who play on a USA Softball sanctioned travel team.
ALL-AMERICAN GAMES INFORMATION - www.usasoftballallamericangames.com
The USA Softball All-American Games is a prestigious tournament hosted at the USA Softball Hall of Fame Stadium in Oklahoma City. This event will provide National exposure to elite athletes in the 12u age division and has been designed to identify and highlight the best athletes from across the country.
There will be 24 teams with only 360 girls nationwide selected to represent their geographical area.
Ohio/West Virginia will field one team of 15 players.
The selection process for Ohio and WV consists of two levels. Any athlete wanting to be considered can participate in a first round clinic/tryout. After the first round of tryouts the best athletes will get invited to a final tryout that will take place on July 6th at the Billy Dome in Alliance. From that event 15 athletes and alternates will be selected to the team that will represent Region 2 in the All-American Games that takes place in OKC August 14th – 16th.
Clinic fee is $40. There is a one - time tryout fee of $25 that includes receiving a USA softball t-shirt. Tryouts are combined with clinics that will be conducted by Aspire Higher Softball with college coaches, players, and or college alumni providing instruction. Athletes can attend the clinics without trying out if they want. Athletes may attend any number of clinc/tryouts. If you are trying out and choose to attend more than one clinic date, you will have to pay the clinic fee but not an additional tryout fee. If you are invited to the final tryout there is no additional fee.
LIST OF FIRST ROUND TRYOUT/CLINIC LOCATIONS FOR OHIO AND WV
Tuesday, June 16th 1:00 to 4:00 p.m. Nitro WV
1675 Park Ave, Nitro, WV 25143
Clinic fee $40 by June 15th, $50 after, one time tryout fee for All-American games is $25 if you choose to tryout
Wednesday, June 24th Dublin, OH
Pitchers/Catchers 10:00 am. to 12:15 p.m.
Infielders/Outfielders 1:00 to 3:15 p.m.
Dublin Coffman HS fields, 6780 Coffman Rd Dublin, OH 43017
Clinic fee $40 by June 19th, $50 after, one time tryout fee for All-American games is $25 if you choose to tryout
Monday, June 29th Ashland, OH
Pitchers/Catchers 9:30 a.m. - 12:30 p.m.
Infielders/Outfielders 1:00 p.m. to 4:00 p.m.
Brookside West Field #1, 575 N Baney Rd, Ashland, OH 44805
Clinic fee $40 by June 26th, $50 after, one time tryout fee for All-American games is $25 if you choose to tryout
DATES FOR FINAL TRYOUT WILL BE MONDAY, JULY 6TH FOR INVITED ATHLETES
The Billy Dome, 9439 Moulin Ave, Alliance, OH 44601 www.thebillydome.com
TO REGISTER FOR ANY OF THE CLINICS AND TRYOUTS WITH A CREDIT CARD .CLICK HERE
To register with a check or cash email klinder@aspirehighersports.com
For questions contact Coach Linder at 330-221-5197.
THE 2018 REGION 2 OHIO WEST VIRGINIA BLUE TEAM FINISHED AS NATIONAL RUNNER'S UP.
For more information about the 2017, 2018, and 2019 competitions please check out:
www.usasoftballallamericangames.com
www.youtube.com/watch?v=m5B4sQic9-Q&app=desktop
www.aspirehighersports.com/blog/
www.facebook.com/usasoftballallamericangames/
https://www.teamusa.org/usa-softball/events/2018/june/29/usa-softball-al...
ADDITIONAL INFORMATION
Athlete must be registered with USA Softball either through her team or as an individual. If selected, there is a participation fee of approximately $800 that helps cover team expenses including bus transportation for the athlete and two additional people to OKC. Athletes are expected to ride the bus. The athlete is responsible for all other travel expenses. The bus will leave for OKC on August 12th from Columbus and return after the last game played in OKC on August 16th and arrive home on August 17th. Athletes and their families get a college road trip experience with Coach Linder. Families who went the last three years have said it was an incredible softball experience, one they would do all over again.
There will be approximately 3 or 4 practices scheduled in July and August that will take place in the evening on weekdays so you will not have to miss games from your travel team.
COMMENTS FROM PARENTS OF ATHLETES WHO WERE MEMBERS OF THE 2017 & 2018 TEAMS:
By far the best softball experience for us as parents and for Brooklyn to date!! Would do again in a heartbeat.
Thanks Karen Linder and your coaching staff for such a great time.
Our family had a wonderful, once in a lifetime experience! Thank you and coach Sheilah for sharing your knowledge and for giving them a heck of a preview of how it is done at the highest level of softball!
Thanks Coach! You were such a positive influence and had a huge impact on all of the girls. Thank you for sharing your wisdom and experience with our girls. Once in a lifetime is an understatement. They are better players and people because of the time they spent with you Coach Gulas and Nikki.
What a great time! Super talented young ladies. Parents are great too!
This experience is unbelievable. Do your young athlete a favor and give her an opportunity to compete to be on this team. She will never forget it.
A great experience with exposure to great coaching and people. I would do it again without hesitation. It is more than just softball. It was one of the best experiences we had had something we will cherish for life. I encourage everyone to do this.
Highly recommend this elite event for your athlete! It is an opportunity you do not want to miss out on. One of the best experiences my daughter has had! Not just the games, but the overall experience was amazing! The coaches are top notch and made this an experience our daughters will cherish for years to come!
11-12U families put this event on your "Must Do" list. The whole experience from tryouts to practice, bus trip and the event itself were incredible. You will NOT be disappointed. Emma had the time of her life meeting new friends and playing the game she loves at the highest level.
The USA softball All-American Games are one of, if not the best opportunity for a 12 year old ball player to experience. If you want your daughter to play with top notch talent against the best competition in the country, for exceptional professional coaches, in an incredible venue, then this is it! Karen Linder and Sheilah Gulas do an incredible job with the the girls. Cam had once in a lifetime experience and great time. I would recommend this to anybody.
Cam had an amazing experience working with you and coach Gulas. Thank you so much for taking the time to share your wisdom and knowledge with her. You made a huge impact upon her.
This was an amazing experience! Coach Karen Linder and Sheilah Gulas run an awesome program and the All-American games are a once in a lifetime experience for your daughter. Lydia would do it again in a heartbeat!
DO THIS !!! Said it before... AMAZING softball experience for both athlete and parents. Even if it interferes with another tournament. I'm gonna steal a motto....
YOU OWE YOU !!!
Such an amazing experience!