Various topics to choose from including mental training strategies to build confidence and consistency, team building activities to create better chemistry and buy in, leadership, recruiting and skill development or team strategies.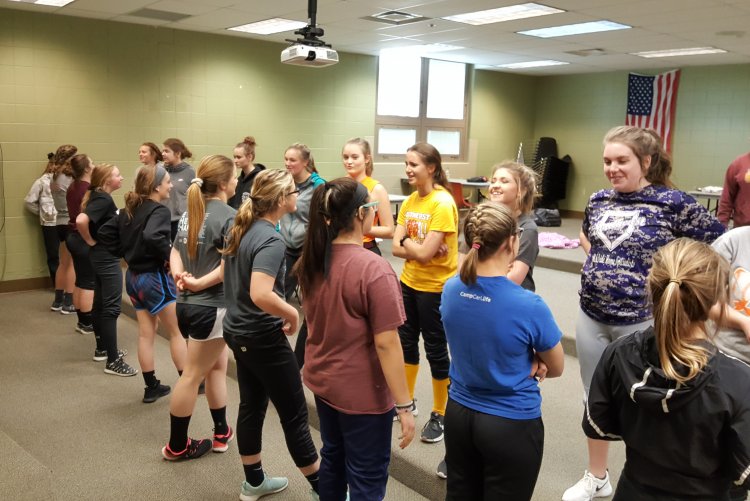 Karen Linder retired 33 year college head coach at Ashland University and KSU, 4-time MAC Coach of the Year with 801 career victories and 12 championship titles, is available to work with your team or athlete. Coach Linder has a Mental Performance Mastery Coach Certification through Brian Cain, one of the most highly regarded mental coaches in the country. These techniques are used by pro, Olympic, college, and national level athletes to perform at the highest levels. Programs can be designed to fit your needs in person with your team or with zoom meetings.
PROGRAMS AVAILABLE:

Softball Skills Training for teams, small groups, individuals– fundamental skills, techniques, and team strategies.

Win the Mind Game Mental Skills Training – techniques that will enhance individual and team performance in developing a championship mindset.
Team Building – group activities designed to bring your team closer together in working toward your mission, gives your team direction while developing cohesion and trust.

Learning to Lead – group activities and discussions to identify the value of leadership in building positive team culture.
Recruiting Education – information for the family to help understand and navigate the process, how to find the right fit, advice, and answers to your questions.

Design your own program with a combination of any of the above. Multiple sessions are available for a discount. Contact Karen for team pricing.
MENTAL TRAINING TOPICS AND ACTIVITIES INCLUDE:
• Characteristics of championship teams and athletes
• Understanding the mind - body connection in performance
• Using relaxation, visualization and mental imagery to improve performance
• Understanding and controlling mental focus
• Utilizing performance routines to develop consistency
• Techniques to help build and maintain confidence
• Self-talk
• Emotional states and how they impact performance 

• Overcoming doubt and fear with belief and trust 

• Making adjustments during performance 

TEAM BUILDING & LEADERSHIP TOPICS /ACTIVITIES INCLUDE: 

• Evaluation of team's strengths and areas to improve 

• Identifying team's core mission, what it takes to be a championship team 

• Team's core foundation – identify your vision 

• Goals – what do we want to accomplish? 

• Building team chemistry – teamwork toward a common goal
• Leadership and group cohesiveness, building trust
• Communication and dealing with conflict 

SOFTBALL SKILLS TRAINING
• Fundamental skills – hitting, bunting, baserunning, throwing, fielding, position play 

• Team strategies – Bunt/steal defense, run downs, relays and cut-offs, producing runs 

UNDERSTANDING THE COLLEGE RECRUITING PROCESS – INFO & TIPS 

• Types of college programs and governing organizations 

• NCAA I, II, and III, NAIA, Junior College/Community College 

• Academic requirements – NCAA Eligibility Center, NAIA Eligibility Center 

• Scholarships and financial aid 

• Factors the athlete should consider in selecting a school and steps to promote yourself 

• Steps for the athlete to take
EXAMPLE OF A MENTAL TRAINING, TEAM BUILDING SESSION WITH RECRUITING INFO
1:00 to 3:30 p.m.
Focus: Team building, communication within the team, and improving individual confidence.
Each topic will have either an individual, small group, or team interactive activities associated with it.

1:00 – 1:20 Introduction activity – What is mental skills training? How improves performance.

1:20 – 1:35 Understanding the impact that thoughts and self-talk have on performance, "I ams"

1:35 – 1:50 Emotional states, traffic light exercise

1:50 – 2:10 Focus and performance routines, hitting routines, routines to let go

2:10 – 2:40 Championship teams, team strengths, areas to improve, goal setting, leadership

2:40 – 3:00 Relaxation and visualization activities

3:00 – 3:30 Understanding the college recruiting process, finding the right college for you, parents invited.
TO SCHEDULE A TEAM SESSION OR INDIVIDUAL LESSON CONTACT: Karen Linder at 330-221-5197 or klinder@aspirehighersports.com
The goal of Aspire Higher Softball is to inspire and teach athletes and teams to expand what they think is possible by creating a vision of possibility with an I can, we can mentality.
Vision + hard work + discipline + right mental attitude = belief, trust, success!