Understand the College Recruiting Process
Find the right College Fit
Individual and Team Consultation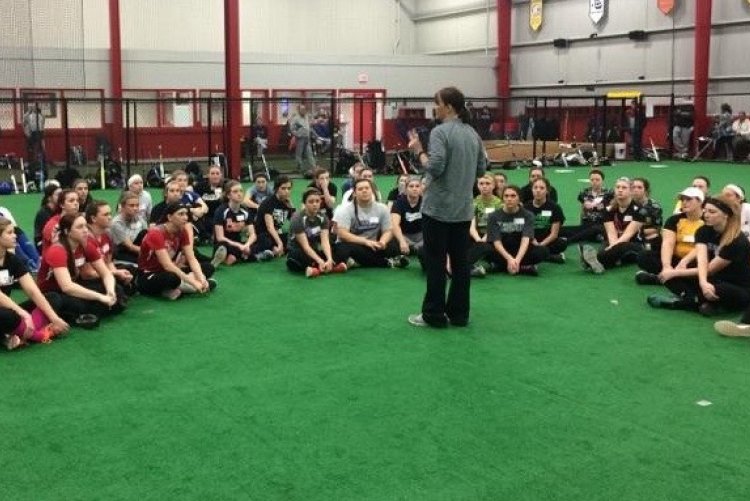 AHS RECRUITING CONSULTATION WITH RETIRED COLLEGE SOFTBALL COACH KAREN LINDER
Coach Linder can help you navigate the recruiting process from start to finish!
DO YOU KNOW?
The various levels and scholarship opportunities that are available for softball athletes?
How to find a school that can offer you a quality academic and athletic experience?
How to get recruited? What steps to take to get on a school's radar?
How college coaches find athletes they recruit?
What coaches are looking for in a potential recruit?
When the high school athlete should start the college search process?
How to make sure you will be academically eligible for the NCAA or NAIA?
If you have a strong desire to further your playing career, Coach Linder can help you find a school that is a good fit for you.
BENEFITS OF WORKING WITH KAREN LINDER
*Education about the process and college opportunities available
*Direction on the action steps you need to take
*Information that will help you make educated decisions
*On going advice and answers to questions throughout the process
*Examples of letters, emails, profile to use in communicating with coaches
*Options to take for video
*List of college softball programs in Ohio and surrounding states with their web site
WHY WORK WITH KAREN LINDER?
*33 years as a head college softball coach at the Division I, II, and NAIA levels;
Kent State University, Ashland University, Union College
*801 career wins, 12 conference championships, Coach of the Year Awards 6 times
* Coached 11 Academic All-Americans, 6 All-Americans, 50 All MAC Athletes, 10 MAC Players/Pitchers of the Year
*7 former athletes inducted into the KSU Athletic Hall of Fame
*Owns the most victories of any father daughter coaching combo in NCAA history with over 1400 wins
*Was a 3 sport Division III athlete at Otterbein University where her father Dick Fishbaugh coached
*Founder of the KSU Showcase Camp, which was one of the first and largest softball showcase camps in the
Midwest with over 400 athletes and 100 college coaches
Coach Linder's new passion is helping younger athletes reach their dreams. In 2016 Coach Linder started Aspire Higher Sports with a focus on developing the mental side of softball. Aspire Higher offers showcase camps, clinics, and instruction for softball athletes of all age levels.
As a retired college coach she knows the recruiting process inside out and can help you develop a plan of action. Coach Linder continues to have coaching contacts at all levels of play and can give you direction as to the steps you should be taking to reach your goal.
Athletes who are serious about playing in college should begin the process as freshmen or sophomores in high school. The first step involves educating yourself about various types of college programs and identifying schools that will meet your needs so that you can make informed decisions about your path.
Coach Linder will meet with the family to share information about the process. Included in the first consultation is a discussion about your goals for college. Each family is given a packet of information that includes examples of email letters, profiles, action steps, and lists of college programs in Ohio and surrounding states.
Coach Linder will answer questions, give suggestions, and be available to proof personal letters and correspondence with schools. She will help you get started and can be your personal guide throughout the recruiting process.
PRICING OPTIONS
PACKAGE A, $75, Getting Started includes:
* One-time in person meeting with the athlete and her parents. This can be up to a two - hour session.
*Informational packet - 20+ pages of educational materials with example letters, player profile, and action steps to take throughout the process.
*List of conference, college programs and web sites in Ohio and surrounding states that offer softball.
*Follow up email and phone access with Coach Linder for 4 weeks after the initial consultation.
*Email, letters and profile reviews; answer questions, offer suggestions, and give advice.
PACKAGE B, $150, Start to Finish includes:
*All of the above plus unlimited phone and email access for the length of the recruiting process.
*A second in person meeting if desired.
*Continue to answer questions and give ongoing advice in the decision making process.
*Once you have chosen a school, Coach Linder will continue giving insight on what the athlete can do to be better prepared
for the college experience.
PACKAGE C, TEAM PACKAGE, $250
*Two hour presentation with your team
*Information packet for each team member
*Discount for individual packages, Package A $50, Package B $100
*Unlimited consultation with the team's recruiting coordinator
TO SCHEDULE EITHER AN INDIVIDUAL OR TEAM CONSULTATION, CONTACT KAREN LINDER
Email klinder@aspirehighersports.com or by phone 330-221-5197
What better way to navigate the recruiting process than having your own personal advisor who has been a part of the process for over 30 years? Coach Linder knows the ins and outs of the college softball recruiting process as well as anyone in the softball world. Take advantage of this opportunity to use her expertise and experience as an unlimited resource from start to finish.
Please note: Coach Linder will give you advice, make suggestions, and answer questions however the expectation is for the athlete to do the work and take the actions needed to find a school that will be a good fit.
RECRUITING PACKET INFORMATION CONTENT
Understanding the Recruiting Process – College Coach Perspective
Understanding the Process – Opportunities for the High School Athlete
Types of College Programs and Governing Organizations
Academic Requirements and Eligibility
Basic Recruiting Rules
Scholarships and Financial Aid
Factors that College Coaches Consider
Time Frames for Communication by Division I and II Coaches
Recruiting Time Line
Factors that the Athlete Should Consider in Selecting a School
Steps to Promote Yourself
Checklist and Steps for the High School Athlete to Take
Information to Put on a Athletic Resume and Example of Player Profile
Letters of Interest and Sample Recruit Letters
College Visits
Questions to Ask the College Coach
Recruiting Videos
Amateur Eligibility Requirement
National Letter of Intent
General Recruiting Advice
Helpful Hints
Dos and Don'ts
List of Ohio College Softball Programs and Surrounding States
List of Helpful Web Sites
HIGHLIGHTS OF COACH LINDER'S CAREER
Career Highlights at Division I KSU and Division II Ashland University:
801 - 634 - 2 career record
11 Academic All Americans
6 All Americans
2 NCAA Post Graduate Award Winners
12 Conference Titles
6 Coach of the Year Awards
KSU Highlights
7 Athletes in the KSU Athletic Hall of Fame
2 All Americans
18 All Mideast Region Athletes
7 Academic All Americans
25 Academic All District
50 All MAC Athletes
62 Academic All MAC Athletes
6 MAC Pitchers of the Year
2 MAC Players of the Year
2 MAC Tournament MVP's
2 NCAA Tournament Appearances
4 MAC Regular Season Titles
7 MAC East Titles
NATIONAL AND CONFERENCE COMMITTEE WORK
Division I: NFCA HCC, NFCA All-American Selection, NCAA Regional Ranking, ESPN Top 25 Poll, MAC Softball Executive Committee
DII: NCAA National Softball Committee, regional chair
HONORS
Summit County Softball Hall of Fame
Field of Dreams Award of Distinction
NFCA Career 801 Victories
Otterbein University Excel Award for Coaching
Otterbein University Hall of Fame